Home > Projects > Russian Sampler
About Russian Sampler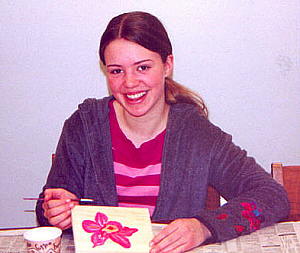 Usually taking place on the fourth Monday in March, Russian Sampler is a day of workshops, classes, and presentations for middle school students about Russia. This program, which has been offered annually since 1993, is organized jointly by the Kotlas Connection and the Colby Russian Program. The program is held at Colby College.
In most years, around a dozen schools send students. The majority of the students come from schools in the Waterville area (Waterville, Winslow, Oakland, China, Vassalboro, Augusta) but we have had students from as far away as Freeport, Newcastle, and Damariscotta. Typically 150 to 200 students attend.
Each student attends four sessions, which last 40 to 50 minutes. In each session, pupils learn about a different aspect of Russian culture or everyday life, such as medical care, folk songs and fairy tales, Easter egg decorating, history, Communism, stamps, icons, folk dancing, ballet, schools, pen pals, and last (but not least) cooking.
The cooking classes are perennially popular. Students prepare borscht, teacakes, or perhaps a Russian salad. All students take a Russian language class, in which they learn the Cyrillic alphabet, a few basic words and phrases, and the Russian spelling and pronunciation of their names.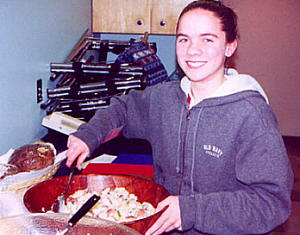 The Russian Sampler presenters come from various backgrounds. They include members of the Kotlas Connection, parents, teachers, and other Russophiles. The cadre of presenters invariably includes several natives of the former Soviet Union, both short-term visitors and emigrants now living in Maine.
The Russian Sampler participants especially enjoy meeting high school exchange students from the former Soviet Union, whom they can ask about Russian schools, family life, and popular culture. In some years, we have been fortunate enough to have guests from Kotlas itself participate in Russian Sampler.
We are always looking for adult volunteers to help with Russian Sampler. If you are interested in teaching a session or just helping set up and clean up, we would like to hear from you. To volunteer for or get more information about Russian Sampler, please write to the Kotlas Connection.
To read about past Russian Samplers and see more pictures, please visit any of the links below.
---
About Us | About Kotlas | News | Impressions | Our Projects | Membership
Other Exchanges | Contact Us | Home