Home > News > 2012 > 19th Annual Russian Sampler Day
19th Annual Russian Sampler Day
On Monday, March 19, 2012, the Waterville Area-Kotlas Sister City Connection and the Colby College Russian Program presented their nineteenth annual Russian Sampler at Colby College. This educational program for Central Maine junior high and high schools students offers a day of Russian language, culture, history, arts and crafts, and cooking lessons for the participating schools. This year, a record enrollment of 280 students took part in eighteen (18) different sessions, conducted by 27 presenters from the local communities.
Retired Waterville physician John Engle shared his extensive collection of Soviet and Russian postage stamps with students, who learned something about Russian history while viewing the stamps.
Connection member Mary Ellen Miner led sessions in lacquer spoon painting, a traditional Russian craft.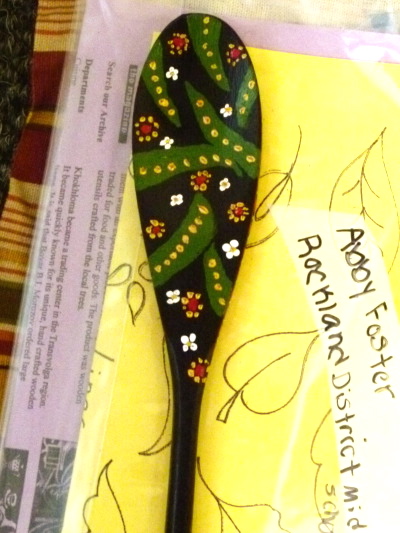 Highlights of the day included all the sessions led by Russian exchange students, who are studying in Maine high schools for the year.
This year's Russian Sampler concluded with a photo-lecture about the life of Samantha Smith, a Manchester teenager, who wrote to then Soviet Premier Andropov about her desire for world peace. Andropov answered the young Maine girl's letter, invited Samantha with her mother and father to visit the Soviet Union, and from that first visit began a series of student exchanges between the two countries. Manchester teachers Mary O'Brien and Shannon Cole, together with Samantha's childhood friends Jessica Dwyer and Kim McKee, talked about their school days with Samantha and explained the lasting importance of Samantha's campaign for peace for all the world's children.
If your local school would be interested in attending Russian Sampler 2013, please contact Professor Elena Monastireva-Ansdell for Colby College's Russian Program at eimonast@colby.edu.
---
About Us | About Kotlas | News | Impressions | Our Projects | Membership
Other Exchanges | Contact Us | Home