Ellen Corey Attends Kotlas Ninetieth Anniversary
Thanks to a generous and unexpected grant from the City of Kotlas, the Kotlas Con­nection's Ellen Corey journeyed to Kotlas in June to take part in that city's celebration of the ninetieth anniversary of its incorporation. Traveling alone, Corey was our official representative at the festivities.
An assistant director of donor relations at Colby College, Corey was elected co-chair­woman of the Kotlas Connection last November. She had served as the Connection's secretary for the preceding ten years and had visited Kotlas twice before. She lives in South China.
Corey traveled by way of St. Petersburg, where she was met by her longtime penpal Zina Zelyanina, who would be hosting Corey during her time in Kotlas. Corey also stayed with Zelyanina during her previous visits to Kotlas in 2002 and 2005 and was Zelyanina's host, when the latter came to visit three Septembers ago.
Corey and Zelyanina took the overnight train to Kotlas, arriving on the morning of June 9. They were met at the station by several other longtime participants in the sister city connection including Inna Tushina, Zina Yegorova, Irina Reznichenko, and Tatyana Shelygina.
Corey was swept up in a whirlwind of activities during her 6½ days in Kotlas. She met with Mayor Sergei Melentyev and Deputy Mayor Andrei Bralnin to bring the official greetings of Waterville Mayor Paul LePage. (The Kotlas mayor and his deputy had visited Waterville in June 2004, and Bralnin returned with the medical delegation in September 2006.) Corey also met with the Waterville Committee, the sister city organization in Kotlas, to extend greetings from the Kotlas Connection.
On June 11, the City held its anniversary parade. Corey marched in the parade with the Waterville Committee, and gave a prepared, two-minute speech afterwards. That evening, she and other special guests of the mayor sat on a covered, riverside veranda to view the live entertainment on a barge. For more about the events of the big day, read the excerpts from Corey's trip journal below. Corey also got to relax with Zina Zelyanina at the dacha, or summer house, of Zelyanina's daughter.
She also met with Andrei Palkin, a Kotlas construction magnate and member of the June 2004 delegation, to discuss the possibility of Palkin's helping to defray some of the costs of bringing Kotlassians to Maine for visits, especially for those invited to participate in the Russian Sampler.
During her visit Corey also got to meet Dr. Sergei Sukhanov and Dr. Yelena Koltovaya, two of the doctors who took part in the medical exchange to Waterville last September. Dr. Koltovaya stayed with the Coreys during her trip to Waterville. Corey was saddened to learn of the death of one of the other doctors in that exchange. Valdimir Mezentsev, an orthopedic surgeon and a longtime smoker, succumbed to lung cancer in June.
The Big Day
Upon her return, Ellen Corey wrote a travelogue describing the highlights of her journey. Her are some excerpts for Monday, June 11, when the major anniversary festivities took place.
The big day! Parade started around 9:30 and I and the two Zinas [Zina Zelyanina, her hostess, and Zina Yegorova, a retired English teacher who has twice visited Waterville] marched almost at the front, just a few rows behind the Navy band (and right smack in front of the Kotlas Communist Party with red banners whipping in the breeze.) Marched about 4 km to the square in front of City Hall, where a platform had been constructed over the steps. All the economics sectors of the city participated in the parade: railroad, lumber, shipyard, electrical, gas, hospitals, teachers, sports teams, Kotlas River University, etc. Quite impressive.
Lots of speeches interspersed with singing and dancing. When the two Zinas thought it might be time for my speech, we went backstage and learned I still had a little while to wait. We were invited upstairs to wait with refreshments in the mayor's assistant's office. The mayor of Velikiy Ustyug [an historic town 30 miles south of Kotlas that is famed for its Orthodox cathedrals] was there and a few minutes later [former Kotlas mayor Aleksandr] Shashurin came in. They talked only to each other.
We went back to square, from which we were chauffeured to the new bowling alley/restaurant for the official dinner from 4 to 8 p.m. We'd call the restaurant a function room — quite nice with blinking lights embedded in the dance floor. Everybody who is anybody in Kotlas was there, plus guests from the regional government and business interests from Poland.
Interspersed with dancing and entertainment, there were lots of speeches from political and business leaders. I don't pretend that I understood a word. I was invited to speak but declined (privately). There is no way I can do an impromptu speech in Russian before a large audience. It was interesting that the biggest round of applause went to a man who was introduced, but declined to speak. Zina Y. told me he was in charge of things during Soviet days, and everyone respected him as a person who did things competently and honorably.
At 8, we were chauffeured to the riverbank. As the mayor's guests, we sat on a covered veranda. The Zinas and I had a small table right in front of the concert barge. We wanted to watch the fireworks display, but it didn't begin until midnight (probably the darkest it was going to get) and we just couldn't stay awake that long. Were chauffeured home at 10:30.
A Feast In The Country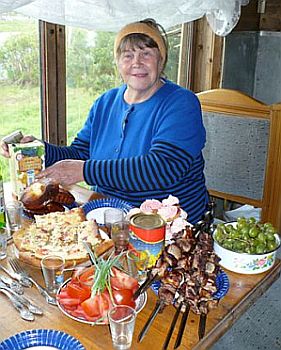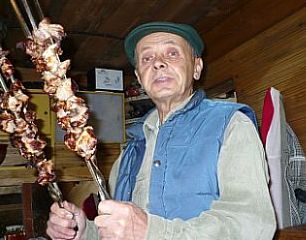 The evening before the big day, Ellen Corey enjoyed a sumptuous repast at the dacha (summer cottage) of the daugh­ter of Zina Zelyanina, her hostess. On the left, Inna Tushina shows off the food that is about to be consumed. On the left, her husband Yuri Tushin, holds two freshly cooked shashliki (shishkabobs). Below, all the guests enjoy the feast. Seated from left to right are Zina Yegorova, Ellen Corey, Zina Zelyanina, Inna Tushina, Yuri Tushin, Leonid Yegorov, and Yuri Zelyanin holding his grand­daughter, Alona Nakvasina.
See also the Morning Sentinel article about Corey's trip.
Ellen Corey supplied all the pictures on this page.
---
About Us | About Kotlas | News | Impressions | Our Projects | Membership
Other Exchanges | Contact Us | Home